I am a visual artist based in Vienna who experiments with transformation, shapeshifting, blank space and communication processes. I am passionate about playfighting, pain sexuality and bike culture. As a former bike messenger skilled in moving between designated positions I consider my transsexuality a messenger job between the genders. In various fields and communities (queer, men-only, poly et al.) I teach non-dualistic thinking and non-linear writing.
In recent years I switched from solo performance work to creating spaces for collective creativity. At this, I combine installation and performance art with methods of mindfulness, choreographies of power and (animal) movement practice.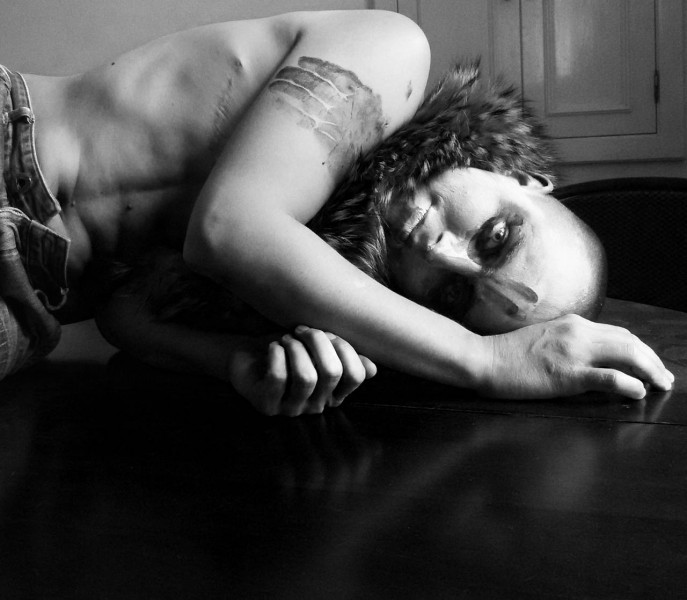 Coming from power play and pain sexuality I am fascinated by the possibilities of an embodied mind; how language, thoughts and imagination can influence our physical presence and how physical dispositions change our thinking. The mind and the body are not two separate things. Physical sensations are linked to emotional feelings. Orientation in space is linked to orientation in the social field.
Since three years I have the pleasure to facilitate – in collaboration with Carolina Frank- the Queerfight Group Vienna. This has been a highly valuable experience and a big inspiration.
In the recent months a queer collective of artists and bodyworkers has formed. We experiment with scores/tasks, powerplay and installation. Looking at our potential for connection, trust and community in a queer way encourages us to dive deeper into the interlaced realities of emotions and sensations. We hope to open up new fields of learning from each other and to challenge each other in the most nurturing way.
I am always eager to learn and teach, to collaborate and exchange in the fields of bodywork, movement art and performance.
I have also worked in individual settings with people who wish to explore expanded sexuality and conscious intimacy.
I performed and showed artistic work:
at Brut, Fluc, Marea Alta, VBKÖ in Vienna and ESC, Graz,
in Istanbul, Beograd and at the Threat Level Queer Shorts, Chicago
I facilitated workshops:
at Schwelle Wien, Schwelle7 and at Village, Berlin / at several Trans Festivals (Munich, Potsdam, Cologne) / at Gallerie zeitgenössischer Kunst, Leipzig, and Donau Festival Krems